THEOCACNA.US
~ ~ ~ ~ ~ + ~ ~ ~ ~ ~
~ ~ ~ ~ ~ + ~ ~ ~ ~ ~
Welcome

Thank you for visiting our website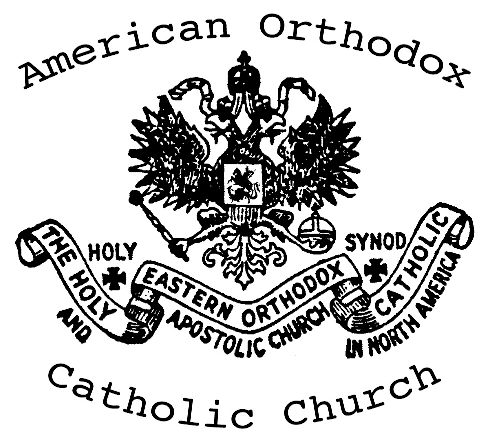 sm
Go ye into all the world and preach the gospel to every creature.
~ ~ ~ ~ ~ + ~ ~ ~ ~ ~
Update
This is not up for discussion.
We are the one and only American Orthodox Catholic Church - (short name for) The Holy Eastern Orthodox Catholic and Apostolic Church in North America that was canonically chartered by the Russian Synod in North America and headed by Archbishop Aftimios Ofiesh. This Church continues today. We are the original 1928 corporation!
We thank all those who send inquiries for membership, incardination and ordination to us. As many of you have discovered we are the original and only true American Orthodox Catholic Church and the same Church that the canonical Archbishop Aftimios Ofiesh was appointed to head. He did not, as some would claim, found or start this Church.
We welcome former members of the various Orthodox Churches, Rome, Episcopal Church USA as well as the Liturgical Lutheran Churches to our services. We hope those who have fallen away from their former Church will reconsider their position and return to a Church for their Spiritual well being. We also welcome individuals from other denominations and faiths who desire a closeness to Our Lord they may not get in their present or former Church, Temple or other place of worship.
We seek orthodox members and clergy. We require strict obedience to the canons. We are happy to consider applications from Active Orthodox clergy, seminary students and lay members who seek valid orthodox sacraments in North America.
All the independent groups listed herein and who later appear and claim to be us by using one of our names, claiming to be us but under another name and who claim to be us based on their lines that trace back to Ignatius Nichols are in no way associated with us, are not us and have no apostolic succession from us. We deny they are even Orthodox! Since we exist and continue they cannot be us. When they or the ethnic schismatic jurisdictions attack us and Abp. Ofiesh of blessed memory they prove their unchristian nature by their actions!
To be canonical we do not need to be recognized by any other jurisdiction since they all have secondary gain motives as to why they ignore us. We do not attack any of them but we do publish the facts as to their canonical violations and the fact they are schismatics.
Odd how they can violate the canons and when called on it they ignore the claim as they can do nothing wrong in their own minds.
- - - - - + - - - - -
The American Orthodox Catholic Church sm
Our name is a common law Service Mark of
THE HOLY EASTERN ORTHODOX CATHOLIC AND APOSTOLIC CHURCH IN NORTH AMERICA®
Established by the Russian Orthodox Synod of Bishops in North America - Moscow Patriarchate - 1927
The Society of Clerks Secular of Saint Basil is our common law name since 1931 and our legal name and property under U.S. Law as a (former) Registered Service Mark. The law states once you have the name 5 years it is yours legally and we have had the name over 75 years under common law and once registered it is our name by law also. You do not neee to maintain a registration to prove your claim.
All those who infringe our names under common law or U.S. Code (Registered Service Mark) are guilty of a criminal act. When they violate the law they prove our claim they are unchristian and not orthodox.
Under the Omophorion of Patriach Nikon
**American Orthodox Patriarchate** SM
Patriarchate established by the North American Holy Synod - 2003
+ + + + + + +
Notice
Any ethnic Orthodox Clergy who renounce the acts of Schism by their Church and who desire a ministry outside the Schism may contact us. We will consider any serious inquiry from clergy who wish to continue a valid orthodox ministry.
NOTICE:
This website contains Historic Church information
of
The Holy Eastern Orthodox Catholic and Apostolic Church in North America®.
We welcome inquiries from clergy presently assigned to one of the old world orthodox churches presently in schism with the American Church. If you seek valid sacramental authority we look forward to hearing from you.
If you are Orthodox, follow the teachings, canons and traditions of Orthodoxy and are seeking a new bishop and a canonically established Church home we look forward to hearing from you. Our clergy must sign a clergy declaration.
We also welcome inquiries from the Episcopal Clergy who are unhappy with the direction their Church has taken.
Who we are
We are the First Canonically Established Orthodox Church that was established in and for the New World or North America. We are the only canonical Orthodox Church in North America in our canonical and rightful jurisdiction. Since the Schism in American Orthodoxy occured in 1929 many have continued to pray with the deposed thus deposing themselves according to c. 11 of the 85c. All their acts today continue outside the true Church. We were chartered Feb. 2, 1927 by the Russian Orthodox Synod of Bishops in North America. They appointed one of their own, the Syrian Archbishop Aftimios Ofiesh to head the new American Church. We were incorporated on Feb 1, 1928 by Abp. Ofiesh. Our names are the legal property (service marks) of this Church under federal law. We do not have to keep the names registered since we legally owned them after 5 years both in common law and statutory law.
We are the original "American Orthodox Catholic Church" sm that was canonically established Feb. 2, 1927 and incorporated Feb. 1, 1928 by Archbishop Aftimios Ofiesh, Archbishop and corporate president.
We list the following from the 1932 newspaper article about the new synod of this Church.
According to the New York World newspaper, Oct. 1, 1932, regarding the Article published regarding our Holy Synod and Council of Bishops;
Under the ancient Canon Law, enacted by the Council of Calchedon in 453 A.D., this (Church) can be the only lawful Orthodox authority or jurisdiction in America.
~ ~ ~ ~ ~ + ~ ~ ~ ~ ~
We now have documented proof, not only from our archives but also from the ethnic Orthodox in America, that no independent groups claiming to be the Society of Clerks Secular of St Basil or the AOCC are or could be us under any name. All such claims are clearly false. Continued claims are lies and proof these episcopi vagants are frauds. They also do not have our or any orthodox lines of Apostolic Succession under Orthodox canons and traditions.
~ ~ ~ ~ ~ + ~ ~ ~ ~ ~
+ Synod Note +
July 24, 2010 will be the 44th Anniversary of the repose of Archbishop Aftimios Ofiesh of Blessed Memory.
Icon
Archbishop Aftimios Ofiesh
Martyr & Confessor of America
Ofiesh Links
~ ~ ~ ~ ~ + ~ ~ ~ ~ ~
The Special Link takes you to information about Archbishop Aftimios Ofiesh, First Archbishop of this Church and Martyr and Confessor of America and to information on the 1929 Schism in American Orthodoxy by the ethnic Orthodox or SCOBA jursdictions.
~ ~ ~ ~ ~ + ~ ~ ~ ~ ~
Ignatius claims
Many make claims they have lines to this Church based on an ordination he did after he left this Church in 1933. Simply put it should be noted that none who claim lines from Ignatius after he left THEOCACNA are or have been associated with the Church Abp. Ofiesh originally headed. Abp. Ofiesh did not found or establish the Church as some claim. They also, according to Orthodox canons and tradition have no legitimate claim on our Church, lines of Apostolic Succession or history since his acts, done after leaving the Orthodox Church, since they were without authority or mandate and he was acing independently as a "former" Orthodox bishop. When he left the Church to start an independent Church he left all authority to act in Orthodoxy.
Those who claim acts by Ignatius after 1942 clearly are making false claims since Ignatius left Orthodoxy no later than 1943 when he became pastor of a community Church where he was pastor until his death in 1947.
None of those who claim to be us under any name have no sacramental authority from us under the Orthodox canons and to the best of our knowledge have no orthodox sacramental authority.
~ ~ ~ ~ ~ + ~ ~ ~ ~ ~
~ ~ ~ ~ ~ + ~ ~ ~ ~ ~
We welcome you to Western Rite Orthodoxy.
We seek members and clergy from all walks of life. If you have no Church home please consider us.
~ ~ ~ ~ ~ + ~ ~ ~ ~ ~
Invitation to join us
Seeking a new Church home?
We seek former orthodox seminary students and clergy as well as those from the Roman Catholic Church and ECUSA who for some reason did not seek or were denied Ordination.
I you feel we are not a canonically established Orthodox Church please feel free to contact us for some documentation. You may also want to read what the Patriarch says on the Bishops Corner link below.
~ ~ ~ ~ ~ + ~ ~ ~ ~ ~
As a canonically established Orthodox Church who is recognized by both the Roman Catholic Church and the Episcopal Church USA we are the closest Church to the old world ethnic Churches available today. We are not a uniate Church and are not under the Pope of Rome. We are under Patriarch Nikon of the American Orthodox Patriarchate. Most non-scoba orthodox today in this country make various claims about their status and recognition but appear to be part of the independent movement. Those who seek to be part of a sacramental Church outside the old world Churches need to look no further. America is our canonical jurisdiction! As the American Church we offer all in doubt, lost or those who have fallen away from their former Church a new home if they are orthodox and submit to the Patriarch & Synod.
~ ~ ~ ~ ~ + ~ ~ ~ ~ ~
Liturgies
~ ~ ~ ~ ~ + ~ ~ ~ ~ ~
We also use "Catholic" as "Universal" since we are Orthodox from the old world Russian Church, Moscow Patriarchate.
In Remembrance
~ ~ ~ ~ ~ + ~ ~ ~ ~ ~
We oppose war as an instrument of oppression and enslavement. We support our troops and we remember those who have given their lives in the Armed Forces.
The majority of the clergy and directors oppose
Capital punishment.

~ ~ ~ ~ ~ + ~ ~ ~ ~ ~
CONTACT INFORMATION:

Archbishop Victor

Mailing Address:
PO Box 121,
Sudan, TX 79371 USA

Church Office:

1-806-227-2214

American Orthodox Catholic Church A/K/A


The Holy Eastern Orthodox Catholic and Apostolic Church in North America®


American Orthodox Patriarchate




E-Mail Adddress:
theocacna@webtv.net
Comments about this web site may be submitted to: theocacna@msn.com
The Patriarchal logo? and graphics on this site may not be transferred or used on other World Wide Web sites without permission.
The material on the domains are copyrighted 1999-2008 THE HOLY EASTERN ORTHODOX CATHOLIC AND APOSTOLIC CHURCH IN NORTH AMERICA.
No part of this site -- including the content, logos, or other graphics -- may be utilized or reproduced in any form or by any electronic or mechanical means, (including transferral to other web sites, photocopying, recording, storage in a datebase or other information retrieval system), without express, written permission. All rights are reserved under international copyright conventions.